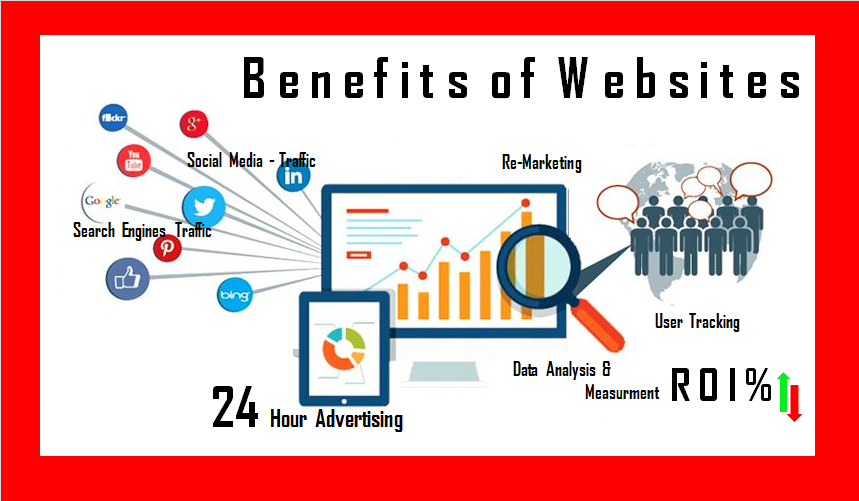 Why should you know benefits of websites?
Knowing benefits of websites may change your mind into online advertising and you will realize how it is important to grow your business fast. So let's start the journey to discover from zero to advance.
Every Business needs advertising to grow their sales and businesses. Spending lot of money for the different type of advertising methods, like Outdoor banners, Printing works, Television, Radio, News Papers and other outdoor marketing campaigns are very expensive and the important thing is cost. This kind of advertising campaigns may not help medium and small level businesses to implement their advertising continuously because of the cost. At that point, they must go for the alternative advertising methods which more compatible with their budgets and through this article, you will be able to understand the benefits of websites for compared to other advertising methods.
Let's go through benefits of websites in details,
Cost-effectiveness and Time-effectiveness
As mentioned above, the cost of a website less expensive to other compared advertising methods and you can continue advertising for a long period because of that advantage. Running your website online means can drag more online user visits using several methods and it will help to increase more customers, sales into your business. Usually other methods, more expensive for short period of adverting and not easy to do any changes or updates at any time. but advertising on a website can effectively access and do any changes to contents or other updates at any time. Adverting with a website can benefit more time efficiency in a day ( 24 hours online) and until next hostings and domain renewal.
Represent of business details
Having a website can visually showcase and display all the products, services and business contacts online. Also adding a good impression and good contents about your business history or reputation can attract more customers to your business. Today there are lot of graphical elements are using for the web designing and don't forget powerful graphical technics always more visible on the internet to grab more online customers.
Search Engines Traffic
Today more than 3 billion of online users are looking at websites and usage of the internet also growing fast. concerning about search engines, there are good opportunities for websites to drag peoples online. organic web traffics (user visits) always a bonus through search engines. Well planned SEO (search engine optimization) websites can make a good outcome for your business by getting more online user visits and also you can get paid online user visits targeting specific keywords and increase user visits. Indexing your website on the proper way can rank in search engine result pages (SERP)
Social Media Traffic
Greatest and simple way to promote your business and websites. Thinking about why a website for advertising on social media? having a social media page or account not enough for online user tracking and also to create segmentation, leads conversion. Social media networks really help to drive more traffic to your website and attract more leads. Today everyone knows the power of social media and how people use it. even having a website can link your all social media pages into your website.
Analysis of Online User activities
Concerning about other advertising methods, could you able to exactly figure out how many people interact or engage with those campaigns? but having a website to your business can track all the online user activities collecting online user data on your website. this data collecting process is very important for your business to create target audiences and also remarketing of products or services. At that point, we can say a website kind of asset that very valuable for your business. Using Google Analytics, Facebook Pixel or any other free analyzing systems can collect your website data and generate good reports for remarketing.
Measurement & Re-marketing
Making right decisions on advertising is very important for any business organization. Otherwise, that cost can be a waste of money without exact results and measurement. Having successful online campaigns and user engagements can identify your revenue to grow business fast. If you do online marketing through a website can easily measure ROI (Return on Investment) and in theory, high ROI rate shows the exact results of advertising campaigns. Based on ROI rate can easily decide to continue advertising and retargeting using recorded online user activities.
All mentioned benefits of websites are very powerful facts in online advertising and also less expensive to other advertising methods. Having a website for any business level or personal level entrepreneur can get benefits of websites to grow their businesses online.
Find out best web designing services and online advertising services in our business directory and experience better benefits of websites,