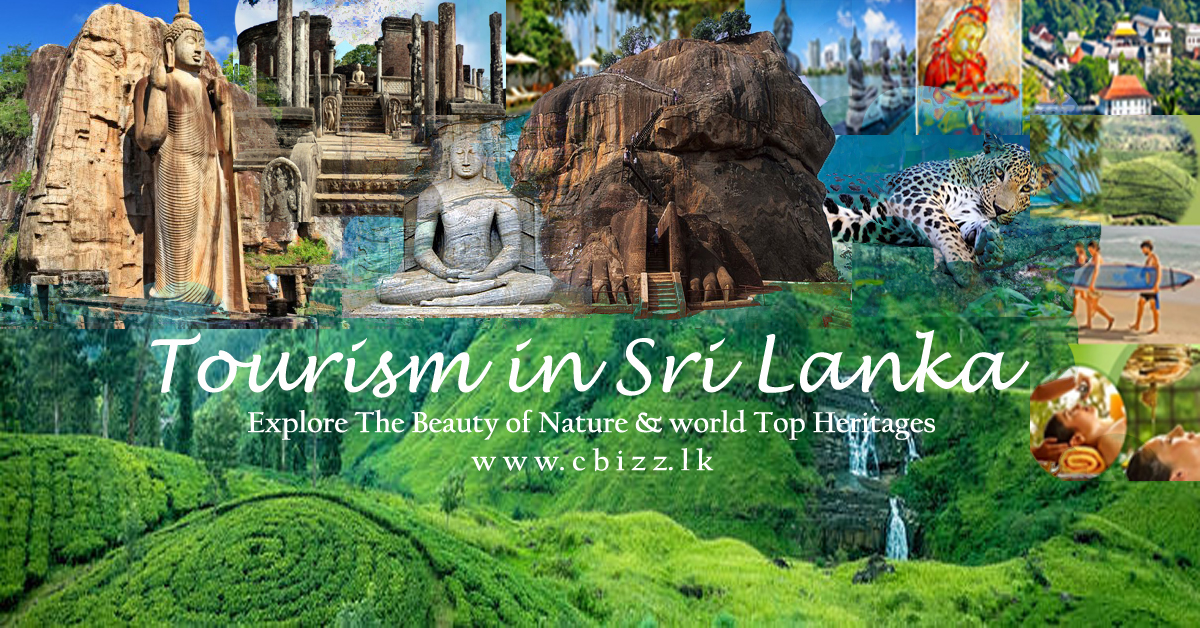 Tourism in Sri Lanka,
Tourism in Sri Lanka is exciting, the country renowned as the pearl of the Indian Ocean is an island nation with a rich cultural heritage, exotic travel locations and a land like no other with biodiversity hotspots and smiling faces.
The country has a blend of culture with a mix of modern elements along with traditional aspects maintaining a regional diversity. Sri Lanka, located on the tip of the Indian peninsula has had a long influence on the Sri Lankan culture and practices. The Sri Lankan culture is enriched on a Buddhist heritage and is the predominant religion of Sinhalese. Through colonization by the Portuguese, Dutch and the British, the country has had a western touch too in the modern era which has influenced in local culinary and lifestyle patterns. Sri Lanka has a diverse culture with the Sinhalese, Tamils, Moors and Burghers residing in harmony.
The unique Sri Lankan culture has helped to maintain a distinct identity dating back to a recorded history of over 2000 years handed down from generation to generation the unique rituals and customs which are preserved to this day. Tourism in Sri Lanka helps you to witness the colorful festivals, arts and sculpture which draw people around the globe to Sri Lanka. Hospitality and warm nature of the people, make it one of the friendliest nations in the world.
Why should you explore tourism in Sri Lanka?
World top heritages
Beautiful Beaches & rivers
Ayurveda
Eco-Tourism
Shopping
Waterfalls and Hills
Zoological Gardens
Wild Life Experiences
World Top Tea plantations & Spices Gardens
Tourism in Sri Lanka helps you have a variety of experiences. Well, the bucket list is high with a choice for all visitors, be it cultural and historical admirers to beach addicts and honeymooners both young and old have activities to engage in.
Heritage Visits draw many tourists to experience the past Sri Lankan traditions and way of life during the era of the ancient kings and queens who used Avuryveda to maintain good health and led a nature-friendly life. The ancient civilization can be witnessed by making a tour of the Golden cultural triangle which covers the ancient cities of Anuradhapura, Polonnaruwa, and Sigiriya. The archaeological sites reveal the technological miracles of ancient Sri Lanka, a country well known for its ancient irrigation systems. The wooden arts, paintings, and sculptures of Kandy present the local talent and the rock fortress of Sigiriya has been declared a UNESCO heritage site adding value to tourism in Sri Lanka with recorded archeological evidence.
Beach Tours are very popular among the tourists and is the reason why tourism in Sri Lanka is popular. One can experience beautiful stretches of the sun-kissed coastal belt under shady coconut groves and clear blue waters. Many popular beaches such as Unawatuna, Negombo, Bentota, HikkaduwaandNilaweli attract both locals and foreigners. Mount Lavinia beach in the suburbs of Colombo is a perfect get way too. Whale and Dolphin watching in Mirissais a must do while in Sri Lanka.
Hill Country Expeditions are for the nature lovers to drape in the healing green atmosphere amidst the serene and misty mountaintops of Sri Lanka making tourism in Sri Lanka enjoyable. The lush tea estates and beautiful waterfalls like Dunhinda and Diyaluma would help one to experience the richness of Mother Nature to build lasting memories. The Peradeniya and Haggala Botanical gardens give an amazing experience for tourists. Sripadaya or the Adams Peak is a hill station with a unique identity being popular both as a religious venue and a place to experience real Sri Lankan natural beauty.
Wild Life Excursions at the national parks such as Yala and Wilpathuprovide tourists with the opportunity to witness the wild giants. Tourism in Sri Lanka helps you to be close to the Asian elephants, leopards, sloth bear and much endemic flora and fauna which has made Sri Lanka a popular biodiversity hotspot with true exotic beauty.
Activities to Engage while in Sri Lanka
As a holiday destination, there is plenty to engage in while your stay in Sri Lanka. Ranging from tropical sandy beaches to wildlife safaris and adventure tours, Sri Lanka has many opportunities in store for you and the main reason why tourism is so popular in the island. Trekking, climbing and watersports are some of the fun activities one can engage in.
The culinary delicacies in Sri Lanka from main course rice and curry, lagoon prawn and crab, kotturotti to street food like issovade, one can indulge in abundance while in  Sri Lanka.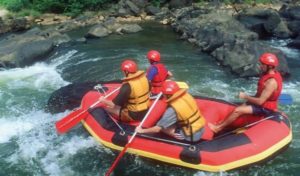 Water Sports are synonymous with the small town of Kithulgala making it an ideal spot for tourism in Sri Lanka. The wet zone rainforest is an ideal eco-adventure site with facilities for white water rafting in the Kelani river.It is a very safe place during the dry months to swim and play. The site has facilities for flat water rafting, waterfall trekking, and abseiling. Popular dive and snorkeling sites in Sri Lanka include Hikkaduwa, Nilvelipigeon island, and Kalpitiya Bar Reef.
Trekking and Hiking in Sri Lanka are quite popular among the foreigners who visit the island. For a keen hiker, tourism in Sri Lanka offers a plethora of opportunities in the lustrous hill stations. Haputhale and Diyathalawa are a paradise for trekkers who could base their hikes through the jungles and tea estates up into the hills. En-route the hikers can relish the picturesque waterfalls and scenic vegetation.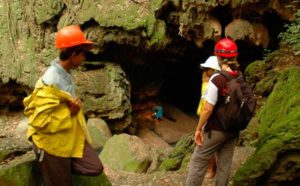 Caving or Speleology though a new concept is catching up fast and is drawing the attention of tourism in Sri Lanka. With many caves dotted around the hills of Ritigala, one can experience quite an adventure. For persons trying to study nocturnal life, these caves provide a good venue.TheBelilena or Wavulpone has a large community of bats while the Batatotalena at Sudugala has the remains of the prehistoric 'Balangoda Man' inside the cave.
Camping can be one of the best experiences to have while engaging in tourism in Sri Lanka and one gets to be a part of nature amidst jungle locations. The Yala and Wilpathu camping sites are very popular wild wife safari camps while camping in the Knuckles mountain range is an exotic experience too. Camping in the Vaddha villages of Mahiyanganaya will help you explore the traditions of the 'Adhiwasi' or native inhabitants of Sri Lanka who spend a nomadic way of life.
Shopping And Night Life is actively present in the country and a purpose for choosing tourism in Sri Lanka. From relaxing cocktail lounges to modern luxury hotels, the country has lively pubs and sports bars with large screen TV's and dancing floors to chill your time especially in the heart of Colombo. The choice is endless with pulsating discos and lively nightclubs.
Sri Lanka is also one of the best destinations for gem and jewelry shopping. The Sri Lankan sapphires are highly valued and the country is home to many gemstones making it a destination for tourism in Sri Lanka. The spice gardens of Sri Lanka help you with access to all your culinary requirements and Sri Lankan cinnamon is the best in the world. Do not forget to pick a pack of the best tea from Sri Lanka before leaving.
Check out our directory of travel & tour operators &contacts under different categories,
Check out useful websites about tourism in Sri Lanka.